An overview of the weekly Google Lesson Plan document, its purpose, and tips.
The Google Lesson Plan Document
Primary Contact: Jonathan Day or your student's teacher

The Google Lesson Plan document is a Google document that will be sent out to all co-teachers Monday morning of every school week. There is one document created for the the Logic school (7th-12th) and another created for the Grammar school (PreK-6th). The Grammar School Lesson Plan is organized by grade level. Each grade level has a table divided by the days of the week with each class listed in the column corrosponding with that day. Under the title of each class there will be a short description of the assignment(s) for that class along with links to any digital resource that the teach is able to make availableThe Logic School Lesson Plan is more or less the same except that it is divided by class rather than by grade.
It is absolutely important that the co-teacher read through the complete lesson plan for their student every week.
If there are questions about the subject matter, many teachers will supply a co-teacher resource folder in the far left column with resources to help. Otherwise, in that same column, there will be the teacher's contact information.
Check back frequently for updates. Sometimes updates or changes to the lesson plan for off campus days are necessary due to unforseen circumstances. If you read the lesson plan on a previous day, please, re-read before beginning school work for that day.
Often this document will have teacher's guides and answer sheets attached to it. We ask that you do not give your student access to it for academic integrity.
Remember that you can look up previous lesson plans if there is a question or resource you need from another week.
The lessons plans are labeled by quarter and week number. See below for examples.
Grammar School
Google Lesson Plan Document Example: 6th Grade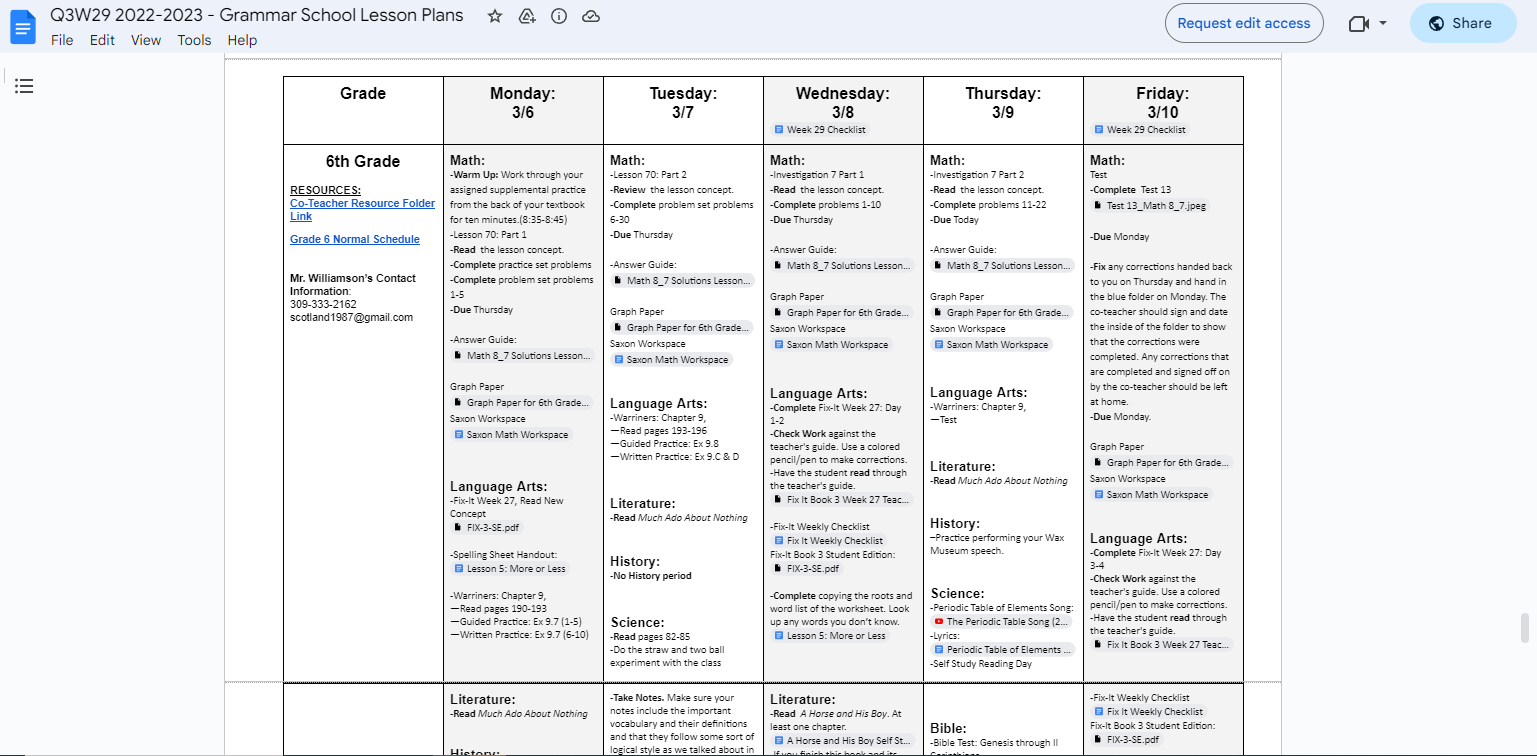 Logic School
Google Lesson Plan Document Example